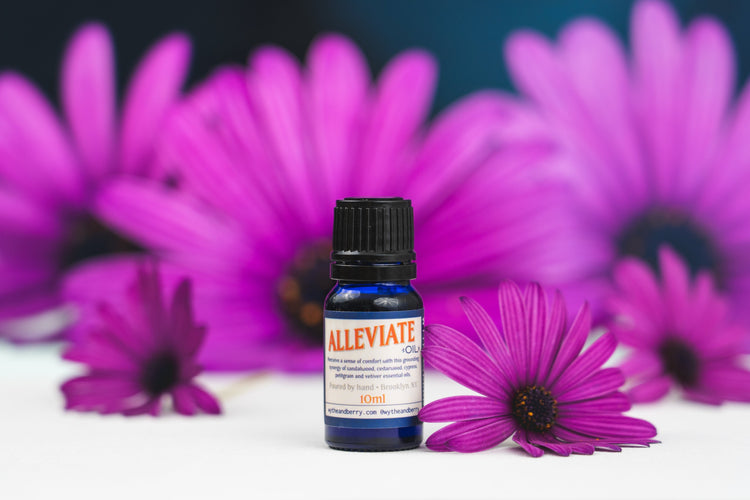 Alleviate
Woodsy, Earthy, Slightly-Sweet, Warm
Ingredients
Santalum spicatum

(Sandalwood)

Cedrus atlantica

(Cedarwood)

Cupressus sempervirens

(Cypress)

Citrus aurantium

(Petitgrain)

Vetiveria zizanoides

(Vetiver)
Uses
Utopian in a diffuser to fill the space with a grounding aroma, perhaps before meditation, preparing for sleep, recovering from a stressful situation or while enjoying a cup of tea. Alleviate may also be combined as an ingredient in other DIY products, like a body oil or facial serum formulation ,as this synergy is also a wonderful combination for the skin.
Cozy and Warm with a Little Pop
Perceive a sense of comfort with this grounding synergy of sandalwood, cedarwood, cypress, petitgrain and vetiver essential oils. In a sometimes crazy world, Alleviate was created to give pause to one's feelings of anxiety and stress by offering comfort, balance, protection, stability and strength.
This Signature Blend is based in precious, wise Sandalwood energy which is also wonderful for skin ailments like psoriasis and eczema. It creates an opening for introspection and perhaps connecting and receiving information from your higher realm fluently. 
As one customer shared "All of sudden the seats reclined and Bob Marley started playing", and yes we get that as this is where we feel Alleviate takes one's soul.
What's this?
Essential oils are gifts from nature which are powerful and magical, and while they offer so much, it is important that one acknowledges this by always use them with respect and understanding. Please keep out of reach of children. For external use only. Do not ingest, if swallowed seek urgent care or call USA poison control 1-800-222-1222. Please dilute if using on the skin, keep away from mucous membranes. If allergic reaction occurs, discontinue use. If pregnant or breastfeeding consult with a health care practitioner before use.